---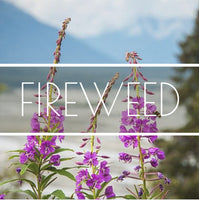 Fireweed- Chamerion Angustifolium
Origin - Happy Valley, Kenai Peninsula, Alaska
Topography- Glaciated, Mountainous
Elevation- 239ft
Flowering Season- July, August
Method- Steam distillation of stems, leaves and blooms
Distillation Date - 8/20/2020, 8/22/2021
Aroma- fresh, lightly floral, honey like
Aromatherapy Uses- It is said that fireweed promotes a calming and peaceful mind. Soothing and relaxing. Assists those who suffer from insomnia. 
Skincare- 90x more Vitamin A and 4x more Vitamin C than an orange. Excellent for wound and burn care care. Soothing, toning, pH balancing. Anti-inflammatory, anti-microbial, anti-fungal. Clears blackheads and acne in general. Offers relief for psoriasis and eczema. Fantastic remedy for sunburns. Beneficial for combination skin. 
Shelf Life- Stable- 18 months with proper care. Refrigeration is recommended. If refrigeration is not an option, store in a cool, dark place and use within 3 months.
 Out of Stock until Summer 2021