---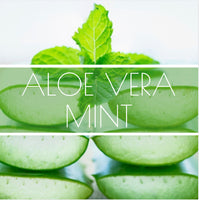 Aloe Vera + Mint- Aloe Barbadensis + Mentha
Origin - Saint Lucie West, Florida
Topography- Inland coastal, tropical
Elevation- 27ft
Flowering Season- usually Spring, but can be sporadic 
Method- Steam distillation of succulent leaves, (aloe), and stems and leaves, (mint) 
Distillation Date - 11/20/2020, 6/10/2021
Aroma- clean, crisp, minty
Aromatherapy Uses- Aloe is virtually odorless. Studies show that mint carries uplifting, invigorating, energizing and mood elevating characteristics. Enhances mental performance. Relieves feelings of sadness. Eases stress, exhaustion, and irritability.  
Skincare- Ultra toning. Packed with free radical fighting antioxidants. Skin brightening. pH balancing. Oil controlling. Calms acne prone skin. Cooling for overheated skin. Soothes inflammation. Contains naturally occurring vitamins A, B1, B2, B3, B6, B12, C and E.
Shelf Life- Stable- 18 months with proper care. Refrigeration is recommended. If refrigeration is not an option, store in a cool, dark place and use within 3 months.