---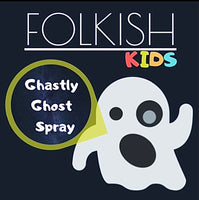 Do your kiddos struggle with illusion vs reality during this visually stimulating time of year? Do you want to give them a tool to build confidence, while encouraging imagination? Folkish Kids has just the right solution for you! 
Ghouls, Goblins, Monsters and Ghosts don't stand a chance!
When sprayed around their little bodies, POOF!, kids become invisible! Spray it into closets, under the bed, in hallways and on pillows. Add it to your night time ritual and make bedtime memories that last a lifetime.
This beautiful and natural remedy contains:
💜Lavender- calms anxiety
🌲Balsam Fir- balances emotions
🌿Patchouli- eases stress
🌾Palmerosa- brightens mood
🌸Geranium- combats sadness
🌼Roman Chamomile- promotes sleep
Prepared in a 2oz spray bottle, and is perfect for little hands!
25% of every sale will go to benefit The Lindsay School of The Arts and the restoration of their future forever home: the Historic St. Anastasia Building in the Peacock Arts District of Ft. Pierce. Did you know that the Lindsay School offers Dance, Art, Music, Drama and Writing for children ages 1-18 years 100% free of charge? How awesome are they?!?!