---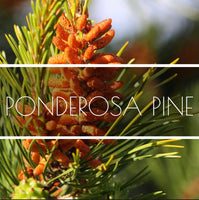 Ponderosa Pine - (Pinus Ponderosa)

Origin - Dixie National Forest, Utah
Topography - Mountainous
Elevation - 6,800ft
Flowering Season - Not a flowering plant
Method - Steam Distillation of needles and twigs
Distillation Date - 12/3/20
Aroma - Balsamic, Woody
Aromatherapy Uses- Ponderosa Pine is said to be a mood elevator and to provide mental clarity, as well as aid in mental, physical and sexual fatigue. It rests nervous tension and removes anxiety, boosts memory and assists in rectifying loss of concentration. 
Skincare - Assists in treating various skin conditions such as, but not limited to: psoriasis, acne, eczema, and dermatitis. Provides a smooth, renewed and glowy complexion, while supporting connective and muscle tissue. Beneficial for premature aging and aging skin.
Shelf Life - Very stable. 24 months with proper care. When not in use, refrigeration is preferred. If refrigeration is not an option, store in a cool dark place and use within 3 months.