---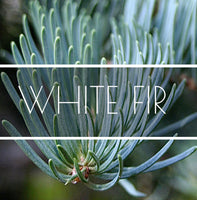 White Fir- Abies Alba
Origin - Dixie National Forest, Utah
Topography- High desert, Mountainous
Elevation- 6,800ft
Flowering Season- Not a flowering plant
Method- Steam distillation of needles and twigs
Distillation Date - 12/3/2020
Aroma- crisp, woodsy, sweet, clean
Aromatherapy Uses- uplifting, calming, empowering, energizing. Evokes feelings of stability. Increases mood. Eliminates stress and depression. Increases circulation and improves brain function. 
Skincare-  Antioxidant function, neutralizes free radicals, prevents premature aging. Eliminates body odor. Antimicrobial. Stimulates the release of toxins. Beneficial for all skin types.
Shelf Life- Very Stable. 24 months with proper care. Refrigeration is recommended. If refrigeration is not an option, store in a cool dark place and use within 3 months.