---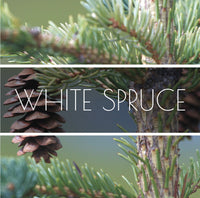 White Spruce- Picea glauca 

Origin - Happy Valley, Kenai Peninsula, Alaska
Topography- Glaciated, Mountainous
Elevation- 239ft
Flowering Season- Not a flowering plant
Method- Steam distillation of needles and twigs
Distillation Date - 12/3/20
Aroma- mild, sweet, crisp, green, balsamic, woodsy
Aromatherapy Uses- It is said that White Spruce promotes openness of the mind, encourages emotional blocks and increases overall harmony of the mind, body and spirit. Soothes and relaxes nerve sensitivity. Especially useful for grounding and for meditative purposes.  
Skincare- Excellent for wound care. Prevents infection. Soothing, toning, balancing. Beneficial for all skin types. 
Shelf Life- Very Stable- 24 months with proper care. Refrigeration is recommended. If refrigeration is not an option, store in a cool, dark place and use within 3 months.