---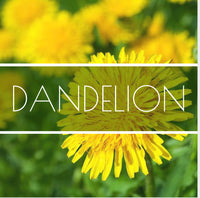 Dandelion-Taraxacum
Origin - Happy Valley, Kenai Peninsula, Alaska
Topography- Glaciated, Mountainous
Elevation- 239ft
Flowering Season- Early Spring to early Summer 
Method- Steam distillation of blooms, stems and leaves
Distillation Date - 7/9/2020
Aroma- Full bodied, sweet, pungent 
Aromatherapy Uses- It's difficult to find studies that have been done on the use of Dandelion in aromatherapy. My experience with it takes me to warm days and walks in the woods. It reminds me of honey and sweet memories. I find it very purposeful and to be extremely grounding.  
Skincare- Content of vitamins A, C and E make our dandelion hydrosol skin refining and help to boost collagen. It is brightening and helps to reduce the appearance of fine lines. pH balancing. Detoxifying, calms irritation and is anti-inflammatory. Beneficial for problematic and aging skin.
Shelf Life- Stable- 18 months with proper care. Refrigeration is recommended. If refrigeration is not an option, store in a cool, dark place and use within 3 months.
Out of Stock until Spring/Summer 2021