---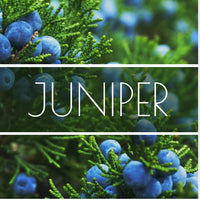 Juniper- Juniperus osteosperma
Origin - Dixie National Forest, Utah
Topography- High Desert, Mountainous
Elevation- 6,800ft
Flowering Season- Not a flowering plant
Method- Steam distillation of twigs, needles and berries  
Distillation Date - 12/4/2020
Aroma- Green, pungent, peppery, bold, piney
Aromatherapy Uses- Juniper is said to offer grounding and purification of the spirit, increases focus, eliminates the negative emotions of worry, guilt or feeling overwhelmed. Encourages self awareness and feelings of courage and protection. Aura cleansing. 
Skincare- Reduction in blemishes, acne and eczema. Increases blood circulation and oxygenates the skin. Evens skin tone and balances pH 
Shelf Life- Very stable - 24 months with proper care. Refrigeration is recommended. If refrigeration is not an option, store in a cool, dark place and use within 3 months.