---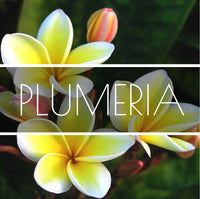 Plumeria -Plumeria acuminata
Origin - Saint Lucie West, Florida
Topography- Inland, Coastal
Elevation- 27ft
Flowering Season- Early Spring through Summer 
Method- Steam distillation of blooms 
Distillation Date - 4/10/20, 5/2/20, 6/1/20, 6/21/20, 7/10/20, 8/1/20, 4/10/21, 6/12/21
Aroma- Light, floral, peachy, citrusy
Aromatherapy Uses- The subtle aroma of plumeria has been noted to destress the mind, calm the central nervous system, is considered to be an antidepressant and an aphrodisiac. Plumeria evokes love and spirituality. 
Skincare- Moisturizing and ultra hydrating. Anti-inflammatory, Boosts collagen. Astringent, yet non drying. Anti-microbial. Anti-septic. Leaves a tight, radiant, healthy and smooth appearance to complexion. 
Shelf Life- Stable- 18 months with proper care. Refrigeration is recommended. If refrigeration is not an option, store in a cool, dark place and use within 3 months.