---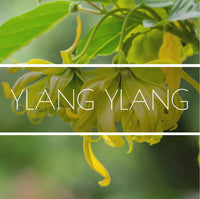 Ylang Ylang- Cananga Odorata
Origin - Stuart, Florida 
Topography- Coastal
Elevation- 3ft
Flowering Season- Spring, Summer, Fall
Method- Steam distillation of blooms 
Distillation Date - 6/6/2020, 8/15/20, 6/20/21
Aroma- Full bodied, sweet, heavily floral
Aromatherapy Uses- Known for its calming,  cooling and uplifting tendencies-  it is said that Ylang Ylang releases anger and unwanted tension. It encourages self esteem, relaxation and sensuality. Aphrodisiac and encourages love.  
Skincare- Soothes, tones and balances the skin. Increases circulation. Regualtes oil production. Balances pH. Stimulates cell regeneration and collagen production. 
 Shelf Life- Stable- 18 months with proper care. Refrigeration is recommended. If refrigeration is not an option, store in a cool, dark place and use within 3 months.